The Auxiliary of Indiana Regional Medical Center—supporting the hospital since 1915
On January 16, 1915 - Miss McKnight presented to the Executive Committee her views on the formation of an auxiliary board for the purpose of assisting in the care and management of the hospital. After some discussion, Mr. Scott made a motion that a Hospital Auxiliary Board be established and organized. One woman from each of several churches was chosen to represent their church, and thus the hospital auxiliary was formed. Mrs. D.B. Taylor was the first president and there were initially 12 members.
Today, the Auxiliary of Indiana Regional Medical Center (IRMC) has grown to 160 members who have given thousands of hours helping IRMC meet the medical needs of our community.
The Auxiliary always welcomes new members who may participate on special fundraising events or simply support activities through annual membership dues. The success of the Auxiliary's projects is directly attributed to the hard work and dedication of its committee members. Auxiliary funding has supported countless programs at the hospital over the years, and the group has also been a morale booster, with a powerful sense of purpose and camaraderie carried through the decades.
How we use the funds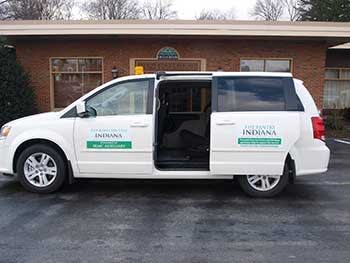 The Auxiliary members vote on the allocation of all funds. In recent years, the funds have been directed to purchasing rockers for the It's A Wonderful New Life Maternity Center and a urine analyzer for the same department. In years past the main funding for the Lifeline Program was provided by the IRMC Auxiliary; however, in more recent years the funds have been directed to maintaining and providing the services of the shuttle van. The shuttle van escorts on average 1,570 patients per month to the front doors and logs over 900 monthly miles.
Mission
Our purpose shall be to promote and to advance the welfare of the Indiana Regional Medical Center. This purpose shall be accomplished through public relations activities and through service to the hospital and its patients.
Pam Kauffman, President
Brenda Lonetti, Vice President/Membership Chair
Erin Fritz-Wood, Treasurer
Kim Balcerak, Secretary
Carol Shively, Corresponding Secretary
Elaine Mulvihill, Volunteer Coordinator
Anne Cash, Parliamentarian/Fundraising Chair
Cindy Dunmire, Program Coordinator
Past President, Toni Conrad
If you know a person interested in being an active member of the IRMC Auxiliary, please use Auxiliary membership form at the button below and give it to the prospective member or contact Pam Kauffman, Membership Chairperson, at 724.840.6109 to mail a brochure to a prospective member. Another consideration: Give IRMC membership as a gift. Call Pam Kauffman at 724.840.6109 for a special gift card that is available.
To join the IRMC Auxiliary, please complete the Auxiliary membership form and send it, along with a $30 check payable to IRMC Auxiliary, to:
Brenda Lonetti
702 Stutzman Road
Indiana, PA 15701
Bmp2680@gmail.com
If you would like to volunteer for any of the Auxiliary's services, such as the Charity Ball, Gift Shop, Hospitality Cart, Guide Volunteers, Jewelry Sale, Mail Service or Pantry, please fill out the Auxiliary volunteer form and mail to:
IRMC Auxiliary
c/o IRMC Administration
P.O. Box 788
Indiana, PA 15701