IRMC Receives Chest Pain Center Accreditation from Corazon
Wednesday, August 17, 2022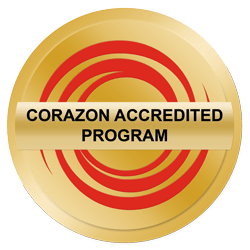 Corazon, Inc., a national leader in services for the cardiovascular specialty based in Pittsburgh, has granted accreditation to the Chest Pain Center at Indiana Regional Medical Center. Through a rigorous process, the accreditation proves that the program at IRMC has met the Corazon Accreditation Standards for Chest Pain Center Accreditation. Corazon ensures adherence to the most recent and national societal guidelines as well as any state specific regulatory requirements.

Indiana Regional Medical Center has demonstrated through their accreditation survey that they are committed to providing the highest quality level of care to their patient community. Their dedication, hard work, and exceptional leadership has afforded this opportunity in engaging their entire hospital team, enhancing their cardiac service line, thus allowing them to excel through achieving this accreditation.

"Receiving this accreditation is a testimony to the hard work and dedication from our cath lab staff, physicians, nurses, administration, Citizens' Ambulance and other team members in providing state-of-the-art care to patients in our community who are suffering from a heart attack and require emergent cardiac procedures," said Richard Neff, MD, Chief Medical Officer at IRMC. "The IRMC-Butler team approach and timely care offers patients great outcomes, and we are proud to be able to provide this service to our community. Our timeliness of acute heart attack care is better than recognized national standards."

Corazon also offers consulting, recruitment, and interim management for the heart, vascular, neuroscience, spine, and orthopedic specialties. The firm has worked with over 600 hospitals nationally to evaluate, re-engineer, or implement best-practice PCI programs. Corazon has also been a verifier for PCI programs in the state of Georgia for several years and was instrumental in building a consortium of hospitals to drive the legislative changes in Pennsylvania.

As an accrediting agency, Corazon helps to ensure life-saving services are provided in communities across the state.