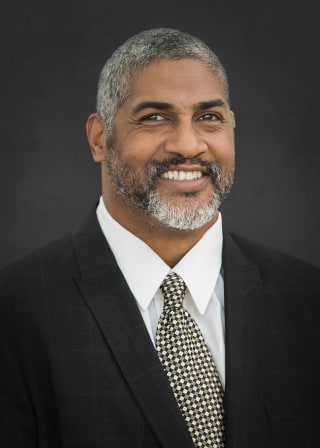 David B. Wilson, MD
Orthopedics Sports Medicine
Accepting New Patients
Facilities
Human Motion Institute
Groups
IRMC Physician Group
Status
Active
Fellowship school
University of Rochester, Strong Memorial Hospital, Rochester, NY,

1997 - 1998




Sports Medicine

Internship
Hershey Medical Center, Hershey, PA,

1992-1993




General Surgery

Residency
Howard University Hospital, Washington, DC,

1993-1997




Orthopaedic Surgery

Board certification

Orthopaedic Surgery, 2004
Dr. Wilson is a board-certified orthopedic surgeon originally from Queens, NY. He has been practicing medicine at Indiana Regional Medical Center (IRMC) since 2005 and has served as Chief Surgeon since 2012. Dr. Wilson obtained his medical degree from the University of Pittsburgh School of Medicine in Pittsburgh, PA.
Dr. Wilson completed a surgical internship at the Milton S. Hershey Medical Center in Hershey, PA and continued on to complete a four-year orthopedic surgery residency at Howard University Hospital in Washington, D.C. In addtion to IRMC, Dr. Wilson has perviously practiced medicine in Farmington, ME, Pittsburgh, PA and Hermitage, PA.
Dr. Wilson specializes in general orthopedics with special interest in orthopedic surgery sports medicine.
Dr. Wilson is a fellow of the American Academy of Orthopaedic Surgeons and certified by the American Board of Orthopaedic Surgery. He is a member of the American Orthopaedic Society of Sports Medicine. Additionally, Dr. Wilson is a team physician at Indiana University of Pennsylvania and area high schools.
In his spare time, Dr. Wilson enjoys playing basketball, traveling and attending services at Faith Temple Church of God in Christ.
Notes
Open Hours
Mon. - Fri.
8:00 - 4:00 p.m.