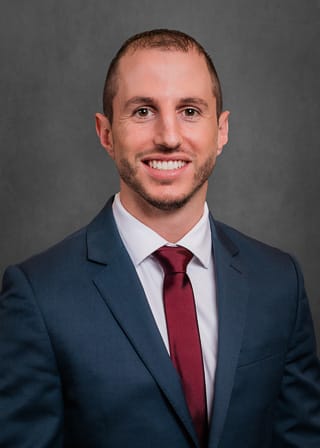 Jonathan Scholl, MD, MS
Pain Management
Accepting New Patients
| | |
| --- | --- |
| Facilities | Human Motion Institute |
| Groups | IRMC Physician Group |
Dr. Jonathan Scholl is a pain management specialist and a Pittsburgh, PA native, who received his undergraduate degree from Carnegie Mellon University, where he also completed a Masters of Science in Healthcare Policy and Management. Dr. Scholl completed his medical degree from University of Pittsburgh School of Medicine and was selected to the Gold Humanism Honor Society.
After graduating from University of Pittsburgh, Dr. Scholl completed a surgical internship and anesthesiology residency program with Allegheny Health Network, where he served in a leadership role as chief resident. Following residency, he completed an ACGME interventional pain medicine fellowship at Allegheny Health Network.
Dr. Scholl serves as Medical Director of the Center for Spine-Pain Management at the Human Motion Institute at Indiana Regional Medical Center, specializing in the treatment of chronic pain. Dr. Scholl works in collaboration with other physicians in the community to create a continuum of care for our chronic pain patient population. With the ongoing opioid crisis throughout the country, Dr. Scholl is excited to introduce alternative methodologies in successfully treating chronic pain.
Away from medicine, Dr. Scholl enjoys sports, hiking, fitness, woodwork and furniture carpentry.
Professional memberships/affiliations/organizations:
The Pennsylvania Pain Society
North American Neuromodulation Society
American Society of Anesthesiologists
Areas of expertise/interests:
Spinal stenosis, herniated/slipped/bulging discs, post-spinal surgery pain, complex regional pain syndrome (RSD), back pain, neck pain, arm pain, leg pain, foot pain, joint pain, bursitis, neuropathy, sacroiliitis, osteoarthritis, sciatica, phantom pain, myofascial pain
Favorite aspect of medicine:
What I love most about preventing and treating chronic pain is it allows me to give patients a new found hope, confidence and quality of life by providing evidence-based medicine with a patient-centered approach.
Hobbies and interests (outside of medicine):
Sports, fitness, woodwork and furniture carpentry
Notes
Open Hours
Mon. - Fri.
8:00 - 5:00 p.m.