The comprehensive technical services housed in the M. Dorcas Clark, MD, Women's Imaging Center help to meet Indiana Regional Medical Center's goal of providing mammography care to the women of Indiana County and the surrounding areas.
While proud of its technology, the imaging center distinguishes itself in the region by offering an integrated interdisciplinary team approach committed to compassionate patient care for the approximate 24,400 women in Indiana County who should be receiving mammograms annually. The facility affords a separate private entrance, close-convenient parking, advanced registration and convenient appointments, all while providing an environment that can help to ease some of the stress inherent in these exams.
A library/resource center is available for women seeking information about healthcare needs.
The center has on staff a full-time nurse navigator who is available to assist women obtaining services.
3-D mammography (tomosynthesis)
Indiana Regional Medical Center offers the Genius™ 3D MAMMOGRAPHY™ exam, developed by Hologic, Inc., a worldwide leader in women's health. Using advanced breast tomosynthesis technology, Genius exams have been clinically proved to significantly increase the detection of breast cancers, while decreasing the number of women asked to return for additional testing.
In conventional 2-D mammography, overlapping tissue is a leading reason why small breast cancers may be missed and normal tissue may appear abnormal, leading to unnecessary callbacks. A Genius exam includes a three-dimensional method of imaging that can greatly reduce the tissue overlap effect.
A Genius exam includes both 2-D images and tomosynthesis scans. During the tomosynthesis portion of the exam, an x-ray arm sweeps in a slight arc over the breast, taking multiple images. A computer then converts the images into a stack of thin layers, allowing the radiologist to review the breast tissue one layer at a time. A Genius exam requires no additional compression and takes just a few seconds longer than a conventional 2-D breast cancer screening exam.
The Hologic system, recommended for women of all ages and breast densities, allows our radiologists to more effectively pinpoint the size, shape and location of abnormalities. This leads to better detection and greater peace of mind for our patients.
Large clinical studies in the U.S. and Europe have demonstrated the positive benefits of a Genius 3D MAMMOGRAPHY™ exam.
Case #1: Recall reduction
Lesion suspected in 2-D evaluation that is shown in Genius exam to be superimposed tissue.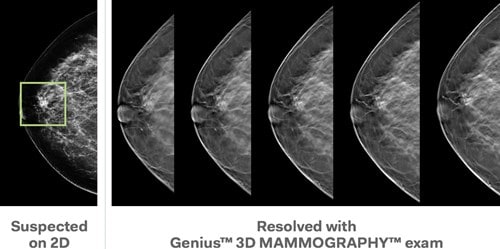 Case #2: Improved detection
2-D evaluation prompts no suspicion; Genius exam evaluation reveals suspicious lesion found to be cancer.
Genius™ 3D Mammography™ exams are available only on the Hologic Selenia® Dimensions® system.
Virtual tour