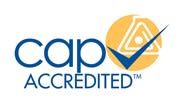 Indiana Regional Medical Center's (IRMC) laboratory offers services at six outpatient centers and is accredited by the College of American Pathologists. Results often are available the same day. IRMC's laboratory performs well over 750,000 tests each year for hospital patients, as well as for independent physician offices and nursing homes. Testing procedures and instruments are continually updated, allowing the department to offer a wide selection of services and remain current with national testing standards. View our complete laboratory test catalog.
Although no appointment is necessary for laboratory tests, you may register in advance by calling 1.888.452.4762 or 724.357.7075. You can also self-schedule online to skip the wait. Once you have completed the registration process, you can report directly to the laboratory for testing.
Outpatient laboratory testing sites
Walk-in Wellness
Multiphasic blood screenings are available at the following outpatient laboratory testing sites:
Indiana at Chestnut Ridge
Northern Cambria
Marion Center
119 Professional Center Lab
IRMC Outpatient Lab
Screenings include:
Basic wellness (glucose and lipid) - $30.
Comprehensive wellness (glucose and lipid, complete metabolic screen, TSH, complete blood count) - $40.
PSA (men only) - $30.
Hemoglobin A1C - $15.
A 12-hour fast is recommended for these tests. Download a Walk-in Wellness Requisition Form.
Anticoagulation clinic
IRMC offers an anticoagulation clinic for individuals who take anticoagulants (blood thinners, warfarin/Coumadin). The clinic provides a safe, efficient and unified approach to monitoring outpatient anticoagulation therapy. Our staff works with your primary care provider or specialist to ensure sophisticated coordination of care.
Services include:
Immediate results of "finger stick" INR testing.
On-the-spot warfarin-dosing, anticoagulation-focused assessments.
Early recognition and management of complications.
Counseling for patients about diet; possible interactions between warfarin (Coumadin) and other medications or vitamins and herbal remedies; the effects of illness; and safety behaviors.
Preparation for medication interruptions due to medical procedures.
724.357.7146
Monday through Thursday, 7 a.m. to noon, by appointment only.
Homebound phlebotomy service
Provided to Medicare/Medicare HMO homebound residents in the IRMC service area. Physicians can enroll outpatients by completing a homebound certification and order forms. Call us at 724.357.7161 for information or certification/order forms.
Virtual tour